A little frivolity is welcomed in these trying times... Posted originally at DailyKos.
So I'm a little late with ths week's shoe diary. Frankly, I thought that there would be only ONE shoe diary until the response was just... overwhelming!! It makes me realize that me and my 90 pair of shoes really aren't a bad thing.
So last week I realized that many Kossacks have a secret shoe passion. We're so busy being brilliant activists and serious thinkers that we supress our inner Shoe Goddesses and Shoe Gods. I'm aiming to rectify this aggregious supression.
Here is my dream shoe of the week:
Are those not awesome? I would wear those with my black power suit and express my individualistic side through Shoe Power... At a retail cost of $430, I better do more power meetings.
I have also concocted a little shoe haiku for you fine folks.
Oh summer sandals
I dream of you on the beach
Sand in toes, water warm
Not great, but not hideous.
Here's a neat site on the history of shoes in ancient Egypt. It's not enough to love shoes - you must learn of their history and partake of learning.
Finally, I'll feature a pair of my shoes (my favorites this week) and shoes of a few other family members. I wore these all weekend at the beach:
Purchased for $10.99, they raise me to about 6 feet tall and I just love 'em.
My mother generally scoffed at my Shoeblogging. She thought it was "silly". However, when asked if she would like a pair of her shoes featured, she couldn't rush to the closet soon enough, where she spent an hour agonizing over her favorite "funky" shoes. Here they are, courtesy of my mom and Bruno Magli:
NOTE: She keeps all of her shoes in little custom shoe bags. Wonder where my obsession came from, huh?
And hopefully this will give all of you a laugh. Here are a pair of MR. RenaRF's shoes: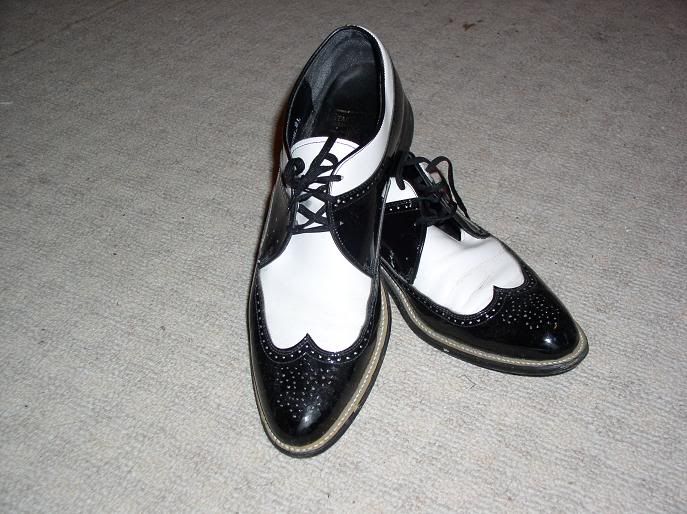 I'm not making this up. I pulled them out of his closet, which is remarkable because he prefers them on his feet. He wears them all the time. Somehow I think that precludes him from chiding me about my shoe obsession.
I have also realized that shoes really do say something about their owner - the owner's personality, flamboyance, preferences, demeanor and what have you. So I perused my shoes and came to the conclusion that I am schitzophrenic. :-) Got some shoes that perfectly express who you are today? Fantasy shoes? Some shoe poetry or article about shoes? Share!
posted by RenaRF @ 10:13 PM,


2 Comments:
At 7:35 PM, The Appalachianist said...

As someone who lived at the beach and wore flip-flops all through grad school, I can identify with the comfort of wearing good dress shoes. I grew up in a house with pleather dress shoes that were drug out of the closet for weddings and they were a horrible thing.
When I got me a "fancy job" my wife bought me a nice pair of ecco shoes - comfy, very comfy. I never wear anything but dress shoes and Burk's now (still a beach bum at heart).